A Knight To Escape
America's Only 2-hour Split Escape room!
Will you escape before being imprisoned?
Florida's ONLY 2 Hour Escape Room!
A Knight To Escape is the longest escape room in all of Florida and the crown jewel of Orlando. It takes the split-start escape room concept to a new level as your team tries to break free from the shackles within the walls of Stonebury Castle!
Fans of Medieval Times or jailbreak-style games will especially appreciate the adventure. Don't miss this one!
Expect to be split, but you can still communicate with each other
Choose Your Path For This 120 Minute Escape Room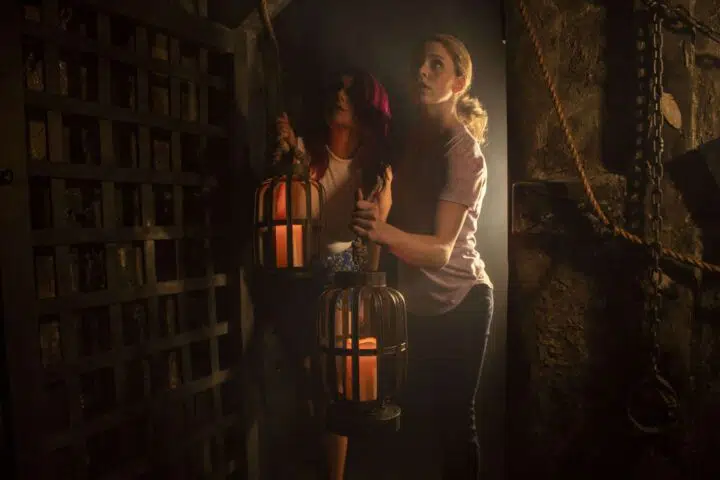 Depths of the Dungeon
Help the Knights save you from the dark and eerie dungeon.
Life seems like a dead end as a prisoner in the bowels of Stonebury Castle. It's eerie and disconcerting. Your only comfort is that there's someone on the other side looking out for you and, of course, the other prisoners.
* Your host can always provide more light in any of our rooms.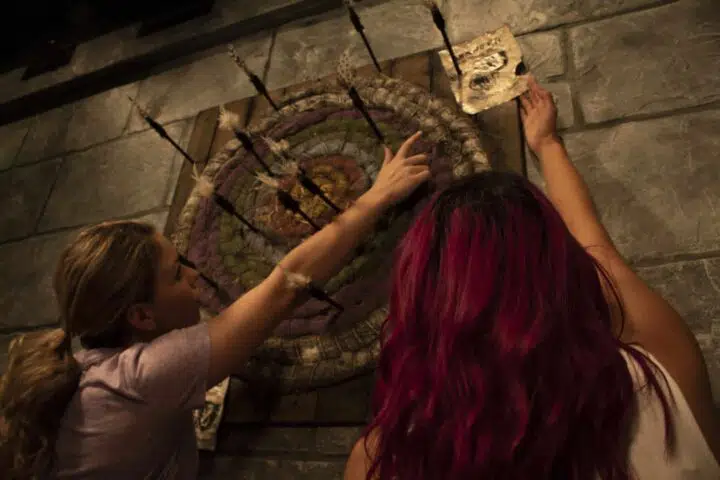 Courtyard of the Castle
Find your way to the prisoners and free them before it's too late.
As Knights, you'll need to work with the prisoners to figure out how to sneak into Stonebury Castle and ultimately save them from impending doom. Don't think it's over after the rescue though – you'll need to escape all together too.
* Elder and ADA guests can participate in any of our rooms.
A Family Feud
The Story Of Stonebury
In a time already long past over the countryside of England, a feud amongst brothers took place. Cassius was driven by his lust for power and Dominic cared for those in the king's land. Upon his passing, the king left the kingdom to Dominic. This left Cassius filled with rage, so he built his army of like-minded recruits and waged a storming of Stonebury Castle. Cassius took Dominic and his allies prisoner.
That's where you are now. Play the role of Dominic's army. Navigate through Stonebury Castle in an attempt to reunite with your comrades. Will you escape before being tortured?
Recommended Team Size
More Players = More Fun
If you're looking for an escape room longer than 1 hour, look no further. This 120 minute escape room presents multiple opportunities where at least four players will need to perform specific actions at the same time. As such, a minimum of four players is physically required, but at least six players is recommended. Yeah, it's really that cool and so worth the time to put together a team!
Always Been Private
Only Play With Those You Know
As long as you like your team, this will be a triumphant experience. That's why we close any additional game slots after you make your reservation. Bring your friends, family, or coworkers. Get comfortable talking (or even shouting) through problems together. This escape room will not just test your wits, but it will also reinforce the strength of your relationships!
Ready for the challenge? It's easy to book online.
Voted Orlando's #1 Entertainment Experience
Learn More About Our Other Escape Rooms In Orlando