The two-minute explanation: what is an escape room?
If you've never heard of escape rooms before, you may be asking "What is an escape room?" An escape room is similar to a video game, but played out in real life. You'll explore the room's surroundings, solve puzzles, and maybe even find secret passageways with your team. At The Escape Effect, we treat it as a family-friendly form of entertainment. Here's how some of our escape rooms feel.
When escape rooms were introduced years ago, the goal of an escape room was to escape the room. But in 2023, as new themes and game mechanics were introduced, the goals has expanded to include other objectives like capturing ghosts or becoming immortal.
The Escape Effect is able to offer you a wider array of experiences through visuals, sounds, wits, and puzzles. One great example is the 75-minute Sherlock Studies, which gives you an opportunity to solve a murder mystery!
Isn't that exciting? Your adrenaline will pump, your brain will scatter, and you'll race against the clock with your teammates. It is so much fun, and it's a great family-bonding or team-building activity.
What to expect from your escape room experience
All escape rooms provide unique experiences, but there are a few common traits that you'll find in many games. For example, many escape rooms use similar types of locks. To better understand what is an escape room, here's an explanation of the traits you'll most often see in the different escape room games.
You'll be under the clock
Escape rooms are not necessarily competitive, but they are assigned maximum durations to add some excitement and help facilitate guest planning. It's very similar to the way that a theater runs the same film at specific times throughout the day. These time limits can add a little bit of pressure and competition to players looking to set personal records.
Although you may have heard that escape rooms run 60 minutes (1 hour) in length, the truth is that there's no rule for how long a game can be—just like how there's no rule for how long video games or novels must be. The more you play, the more you'll likely find yourself wishing that the experiences were longer. That's exactly where The Escape Effect hit it out of the ball park with experiences that run up to two hours!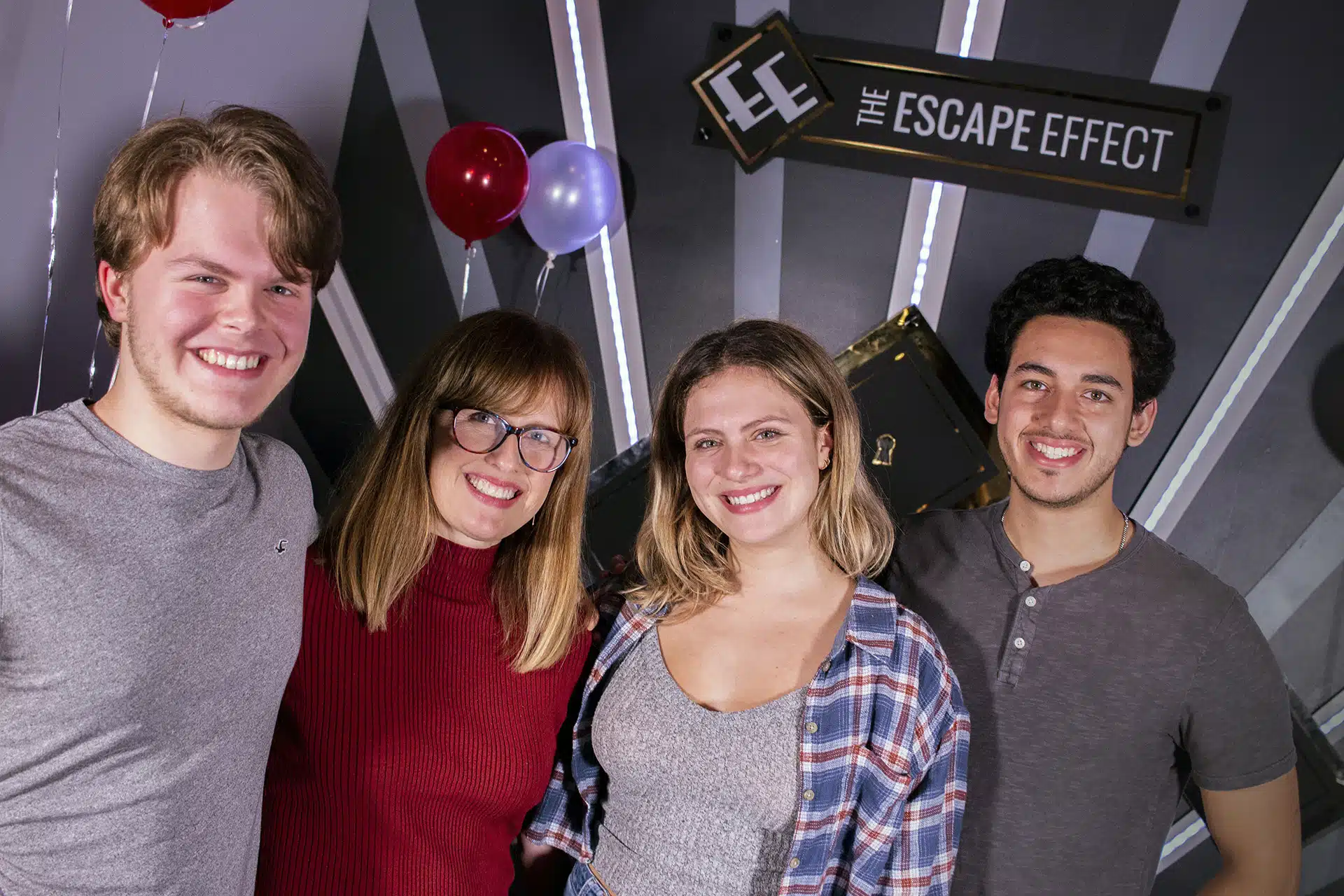 Escape rooms are as diverse as cuisines
We know that some people like Thai food and others prefer Italian, and many restaurants try to offer different dishes to suit individuals' tastes. In much the same way, "What is an escape room" can mean different things to different people, as they come in with different expectations. With that in mind, we try to make our rooms unique from one another so that we can offer something for everyone. You'll find a wide assortment of truly unique themes here, along with custom puzzles and technology that we know you won't find anywhere else.
Lately, more new escape room-style adventures have shown up, such as Universal's Great Movie Escape. It's a unique theme park-led escape room experience, but it's a not a traditional escape room. The Great Movie Escape has a different sort of game play, with a heavier focus on immersing players in the story. More experiences with escape room elements are sure to come as these games become mainstream, leading to more diverse types of experiences.
At The Escape Effect, some our escape rooms will be heavier on exploration, others on communication, and others on puzzle-solving. With If you aren't sure exactly which escape room cuisine you like, call our hosts. We'll be happy to make recommendations based on what your group likes.
Escape rooms aren't just locks and keys
In many escape rooms, you can gauge your progress by how many locks you've opened or which rooms you've managed to access. However, escape rooms have a lot more to offer! Some games feature one room with a central puzzle and many smaller puzzles surrounding it, while others have unique types of locks and puzzles. Fright Before Your Eyes barely uses locks at all; the core of the game is the special device designed exclusively for the room. The diverse types of game design are part of what makes escape rooms so exciting!
Not all escape rooms are scary
Our goal is for you to have fun! Some of our escape rooms are brighter and more light-hearted, others are darker and more thrilling. For those darker and more thrilling games, think of something on the level of Ghostbusters, not Saw. We want to make sure that everyone can enjoy the experience.
That said, if you still feel unsure, be sure to speak with your host. We are here to make you comfortable, and we can adjust lighting or sounds. If someone wants to play but is claustrophobic, we can let you play with the door wide open if it'll help.
And just to be clear, there are no flamethrowers or bottomless pits in any of our escape rooms—that's something you'll only see in the movies!
You can always ask for help
If you find yourself getting stuck on a puzzle, you can always ask for hints. Some escape rooms will limit players to three hints, or penalize the final score based on the number of hints used. However, The Escape Effect does things differently. We redesigned the hint system to allow players to easily ask for help, and to allow you as much help as you need to get the best possible experience.
Escape room FAQ
Will I be locked in the room?
Not at all! Players are free to exit the room whenever they need to, for any reason. We will never lock you into the game.
How long is an escape room game?
Our games range from 75 minutes to two hours, depending on the game you choose—the longest games you'll find in Florida.
Are escape rooms ADA accessible?
Yes! All of our rooms are ADA-compliant, and all players can access every room in the game.
To see more frequently asked questions, click here.
Will I be grouped with strangers?
No. You'll never play with strangers at The Escape Effect. Some places may group teams with strangers depending on the size of the groups, but our games are always private. When you book a game with us, your team will be the only people in the room.
How to book your first escape room
We've made sure that our booking process is as easy as possible.
First, look through our custom-built escape rooms and choose one to play.
Then, you'll either call one of our hosts or choose an open time slot directly online to make your reservation.
Arrive here about 10 minutes before your game start time and a host will greet your party.
Your host will walk you through everything you need to know about the game, including demonstrate any devices you might need before starting the game.
If you have any questions during the game, or if you need advice on how to progress, we have a button in the room that you can press to speak directly to your host.
Why Escape Effect is the best
The Escape Effect offers an attraction that is epic for everyone.  Although we are a small "mom & pop" business, we've been recognized in multiple publications including Orlando Magazine, where we were voted #1 Entertainment Experience four years in a row!
If you want to know more about us, read on to see why The Escape Effect is the best escape room in Orlando.
We hope to see you soon!