Fright Before Your Eyes
Orlando's Only 90-Minute "Spooky" Escape Room
Fright Before Your Eyes
A Unique Ghost Hunting Escape Room!
90 minutes, 2-6 players, Difficulty: 8/10, Pitch Black w/ Flashlights
Delve into the mind of Victor Strange, a magician with a dark secret. In Fright Before Your Eyes, act as ghost hunters and equip yourselves with specialized tools that will answer the question – what really happened to Victor's assistants 100 years ago?
Fans of Ghostbusters and Luigi's Mansion have particularly loved their experiences with this fresh take on thrilling and scary escape rooms. In an escape room longer than 1 hour, there's plenty of time to explore the theatre.
The Most Advanced Tech In Orlando
These Tools Can Detect The Ghosts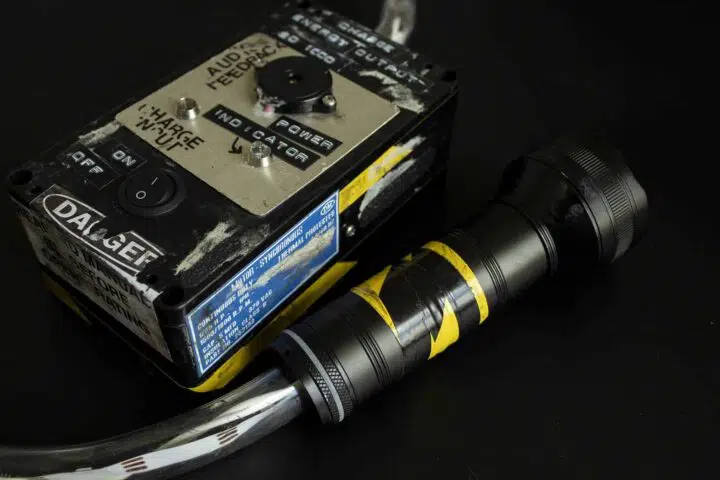 Spectre Detector 1000
Visualize the spirits' messages.
This cool device is responsible for transforming our everyday light into spectral light. This spectral light is the only such light that can expose clues that spirits leave behind. When handling, it's best to have two operators – one to supply the everyday light and another to search with the spectral light.
Spectre Detector 2000
Hear the spirits' messages.
This unique box is responsible for collecting spirit energy and translating that into human audio forms. When scanning a spirit item, hold in place for at least three seconds. If you accidentally scan an item that does not contain spirit energy, you might need to wait for the device to recharge.
Meet Victor Strange, a magician with a dark secret. Loved by his adoring fans, but also quite the light-hearted lunatic to those closest to him. 100 years ago, stories circled about as Victor's assistants mysteriously disappeared one by one.
Play the role of modern-day ghost hunters in this 90 minute escape room. Equip yourselves with specialized tools to find out what really happened to Victor and his stage assistants. Will you free the spirits in time?
Don't Be Scared
A Very, Very, Very Dark Theatre
If there was such a thing as a family friendly spooky escape room, Fright Before Your Eyes could be it. Although the Grand Compass Theatre is in the pitch black darkness, your team will find flashlights to help illuminate the place. And if you don't like being startled or have anyone not-so-brave on your team, let your host know to make adjustments. We can bring the lights up a bit, share with you any questionable areas that may frighten, or even let you play with the door open.
Bonus Round
Ghosts (And Secrets) Are All Around
Exploring the Grand Compass is a layered experience. At first, it seems one way, but then it's another. And there's more to it than just the ghosts. In fact, there's a secret that's hidden somewhere in the game and there's at least three clues from outside the game that can help you find it. Should you come across it, share it with your host and we'll give the lucky player a memento to take home with them. X marks the spot!
Ready for the challenge? It's easy to book online.
Voted Orlando's #1 Entertainment Experience
Learn More About Our Other Escape Rooms In Orlando
Grand Compass Souvenirs
The Grand Compass theatre produces some of the most treasured collectibles and apparel around. Of course, there's a selection of items from when Victor was running the show, but there's also limited items remaining from Antonio D'Acardo's hidden Encore stash. Check availability in our online shop or ask a host after your game.