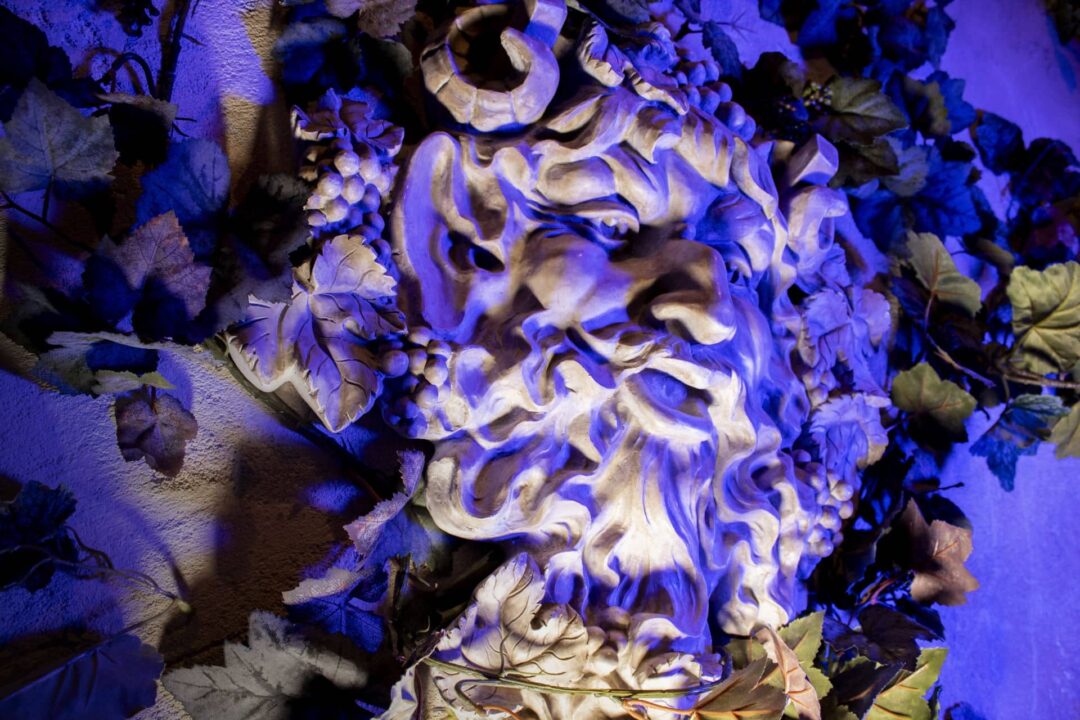 Orlando's Most Unique Escape Room
More Puzzles, More Time, More Fun!
Unique themes, packed with puzzles, and the only 2-hour escape room in Florida!
A Knight To Escape
120 minutes, 4-8 players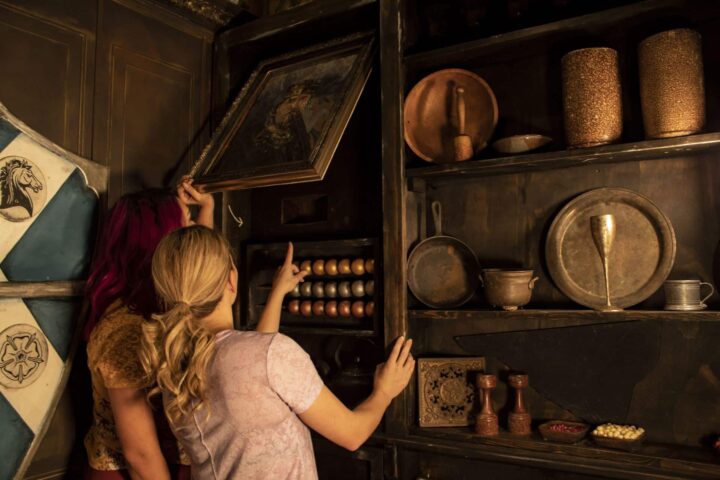 Navigate through a castle to reunite with your comrades.  Will you escape before being tortured?
At Odds With The Gods
90 minutes, up to 10 players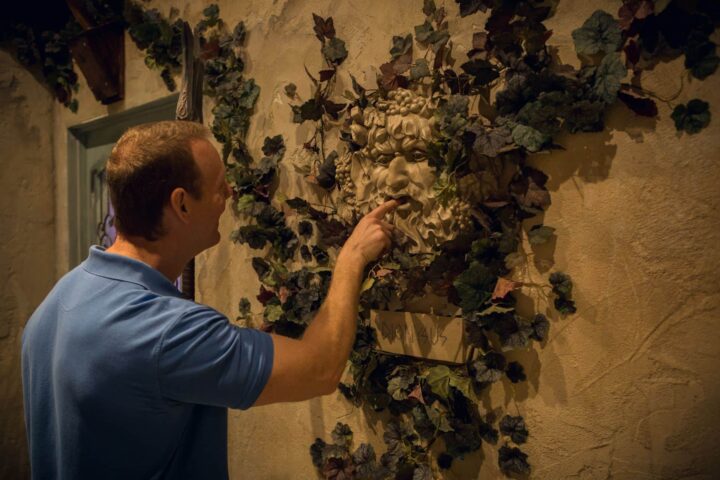 Travel to Mt. Olympus to face the gods' challenges.  Will you conquer it all and become immortal?
Sherlock Studies
75 minutes, up to 8 players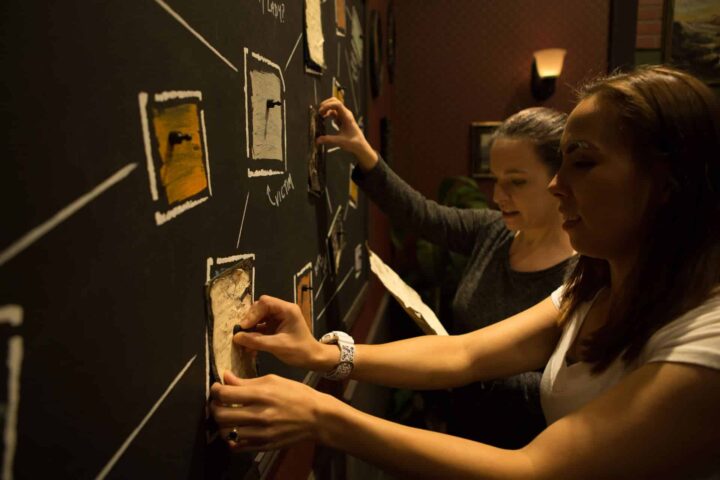 Pick up where Sherlock left off.  Will you solve the mystery and deliver the evidence in time?
Encore
60 minutes, up to 6 players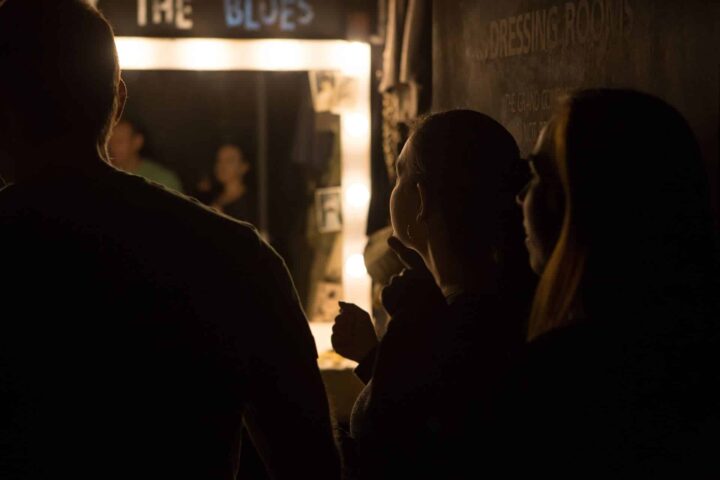 Explore an old theatre for the rumored stash.  Will you make it out ahead of the wrecking ball?
The Escape Effect Escape room Games Orlando
Customize Your Game
Some teams love to come in and simply enjoy the experience.  Others are competitive and want a shot at the fastest times.  Whichever your style, your host will accommodate your party with just the right challenge, an exclusive hint system, and enough fun to remember! Best Escape Room
Orlando Weekly
Top Entertainment Experience
Orlando Magazine
Certificate Of Excellence
Trip Advisor
Five-Star Excitement, Five-Star Fun
BEST ESCAPE ROOM VENUE BAR NONE

All I can say is Wow! I still can't stop raving about how great this game is. Everything from the challenging puzzle design to the room layouts and set decoration is just perfect. Attention to detail is astonishing!
GROUP OF 10 HAD AN AMAZING TIME

The variety and number of puzzles gave everyone in the group plenty of opportunities to contribute to the overall success of the room. The theming was really well done and the puzzles were very unique.
BEST ESCAPE ROOM WE HAVE EVER DONE!

The staff were so friendly and went ABOVE AND BEYOND during our experience. The room theme was amazing, the puzzles were challenging, and the facility was very clean!! HIGHLY RECOMMEND checking it out!
What is an escape room?
An escape room is similar in concept to a video game, but it's played out in a real-life adventure.  You'll physically interact with objects, be mentally challenged, and your adreneline will be at an all-time high.  Imagine exploring exotic areas for clues and solving puzzles to conquer an overall objective – whether it be to escape, locate an artifact, solve a mystery, and more. On top of it all, you and the other players are racing against the clock.
It's challenging, it's exciting, it's The Escape Effect!
How do I get started?
First, select from one of our four games.  Not sure which to choose?  We have an article on our blog that can help you decide or you can call us and talk directly with a host.
Next, make your reservation.  Some folks like to reserve their escape room game online.  Others prefer to call us.  Do whichever makes you more comfortable.
Please arrive 15 minutes earlier than your scheduled game time.  Your host will guide you from there and ensure that you have the most fun time ever.
What makes EE unique?
It feels like every escape room out there does the same thing over and over again.  But, not us!  The Escape Effect introduces experiences with unique aspects to any other escape venue in Orlando.  Here's the top five things that make us particularly special.
EE is the only escape venue to offer games longer than the typical 60 minutes

.

EE is the only escape venue with a special cooldown timer feature for hints or that can give unlimited hints without penalty depending on how you would like to play.
EE is the only escape venue that can set the difficulty of the games based on the number of players on your team and your experience level.
EE does not purchase games from others and we do not replicate our games in other places, so you won't see EE games anywhere outside Orlando – we are not a chain.
EE is fully ADA-accessible.  Guests can access every room within every game.
How is this a team game?
Have you ever been in an escape room where you were told that it was great for a team, but found out that it felt like one or two people were the active participants and everyone else watched?  That just won't happen here at The Escape Effect.  We turn alpha players into team players.  And whether you are a family, a team of co-workers, or a group of friends, you'll strengthen your relationships afterwards.  
This is all truly possible because we gave much consideration when our games were initially designed to be inclusive of all skill types and to prevent players from sitting on the sidelines.  We fixed the problem of an alpha player by packing the games with more puzzles, but also by introducing varied game progressions that allow multiple challenges to be completed simultaneously and/or multiple players to participate in given challenges.
It's not just about one player being the star – it's about the team shining in the universe.
Give us a call.  We offer games that test a variety of skills, we won't pack players into a tiny room, and we offer the best group rates in Orlando.
Locally Owned & Operated
We're real people here in Orlando – husbands, wives, mothers, fathers, sons, daughters, friends, and family.  We're also a team of talented artists, engineers, game designers, and customer service professionals.
We design and build everything ourselves – puzzles, sets, software, graphics, and even circuit boards.  We are also your game hosts and the end result is something truly magical.
Come and join us.  It's the fun and friendliness of a small business with the quality of a major theme park.  You'll remember this experience forever.
Thanks for visiting.
– Dan Suleski, CEO and Creative Director