Testimonials
Amazing Escape Room Reviews
Keep designing these masterpieces
As a huge fan of the middle ages, Knight to Escape hits every bar you would want to imagine. We have done every room there so far and the tech and traditional lock blend is perfect. Every room is top in class without exception. No one has a Sherlock room that does the series justice until now. 100+ rooms under my belt in 2 countries and multiple states and this company is in my top 2 without question.
Mike
Google
Wow! That was so much fun!!
I took my 3 sons and 2 of their girlfriends to the Fright Before Your Eyes last night and it was intriguing. The puzzles were all different and completely solvable with thought. At the very end when we ran out of ideas, the person who works there gave us very subtle directions which got us going again. We solved all the puzzles and escaped. I felt we had so much fun for the $ that I bought us all t-shirts to show the business our appreciation. We are DEFINITELY going back regularly.
Patricia
Google
Fantastic rooms, great gameplay!!!
My wife and I have done almost 300 rooms, and were looking forward to our first 2 hour long room, Knight to Escape! It was amazing, and definitely needed the whole 2 hours! We did all the rooms here and would highly recommend them to beginners and enthusiasts! We really enjoyed the innovative gameplay of Encore, and had a blast in Sherlock Studies! We also really enjoyed the enthusiasm, support, and friendliness of our game master Hayden and the owner Dan (who was genuinely interested in our take on the rooms and the puzzles, and was great to talk with)!! Thanks! We highly recommend doing all the rooms here!
Jeff E.
Tripadvisor
I have done a few escape rooms, but none have compared to The Escape Effect
First of all, the staff was extremely nice and helpful. The check in process was easy and they explained everything in detail… even showing you how to unlock a certain device that you would eventually need to know how to open. The room that we had to get out of had a time limit of 2 hours. It was hard, but it was a team effort without a doubt… let's just say you had to split up into two teams and find each other before finding the ultimate way out. None of us had experienced that before and it was super fun!! I am happy to report that with 54 seconds left on the clock.. we made it out!!! Overall we had a great time and we definitely want to go back and try the other rooms!! Thank you Escape Effect staff for everything!
Nicole
Facebook
We had such an awesome experience
We had such an awesome experience! We decided to bring in the New Years doing what we love most- playing escape games! At Odds with The Gods was such a super cool room. The storyline and puzzles were thought out well and this company always provides top-notch entertainment!
Paige
Google
WE CAN'T WAIT FOR THE NEXT ONE
As soon as you walk in the door you are met with these huge imposing beautiful glass posters, and that's when the excitement started to build. The staff was very friendly and knowledgeable, the complimentary water bottles were a refreshing treat, and the brain teasers on the screen as we waited helped to "warm up" our out of the box thinking. We did the Encore room and without giving anything away, it was a lot of fun, featured a really cool environment mechanic, that was my favorite prop I have ever seen in an escape room, and we finished with 2 minutes to spare!
Lisa
Facebook
Fun and creative rooms!
We were in town visiting for the long weekend and did both At Odds with the Gods and Encore. I really enjoyed how creative the rooms were, and that each one has its own unique spin on the typical escape room experience. Dan the owner was incredibly kind and welcoming, and really made us feel at home! I would definitely recommend The Escape Effect, and I look forward to coming to visit again!
Emerson
Tripadvisor
To call At Odds With The Gods a masterpiece is an understatement
To avoid the wrath of a petty deity, artists would deliberately introduce a small flaw into every masterpiece 'so as to not offend the Gods.' But despite being an avid fan of Greek myth himself, it seems that designer Dan Suleski has broken with tradition and created an escape room so perfect that we can only hope Zeus doesn't catch wind of it.
Paul
Partly Wicked
I absolutely love the staff and the experience!
The staff gave up their Christmas so that families like us who only get together a couple of times a year, to have a fun family bonding adventure. This was our family's first escape experience, but will not be our last! They were helpful when needed, but still gave us time to figure this out on our own. Everything from the theming, puzzles, and Staff was perfect. Great way to spend a holiday evening with a bunch of older children. Thank you again.
Heather
Google
Leave us a review!
Did you have a great time? Be sure to let others know! Leave a review on any of the sites below. Your reviews help others pick the best experience at The Escape Effect!
Four escapes. More puzzles, more time, more fun!
As Voted By Our Guests
Escape Effect Is The #1 Entertainment Experience
For four straight years, The Escape Effect was recognized by the readers of Orlando Magazine as the #1 Entertainment Experience among attractions in and around Orlando, Florida. Thank you.

Additionally, The Escape Effect was also recognized in the Top 3 back during 2018, our first full year with our doors open.
You can be on a winning team! Want to join?
As Voted By Enthusiasts
Escape Effect Is One Of The Top Escape Rooms
The Top Escape Rooms Project Enthusiasts' Choice Awards (TERPECA) is an ongoing search for the best escape rooms. Enthusiasts from all over the world nominate their favorite rooms, and A Knight To Escape has been a finalist or nominee for the last three years in a row!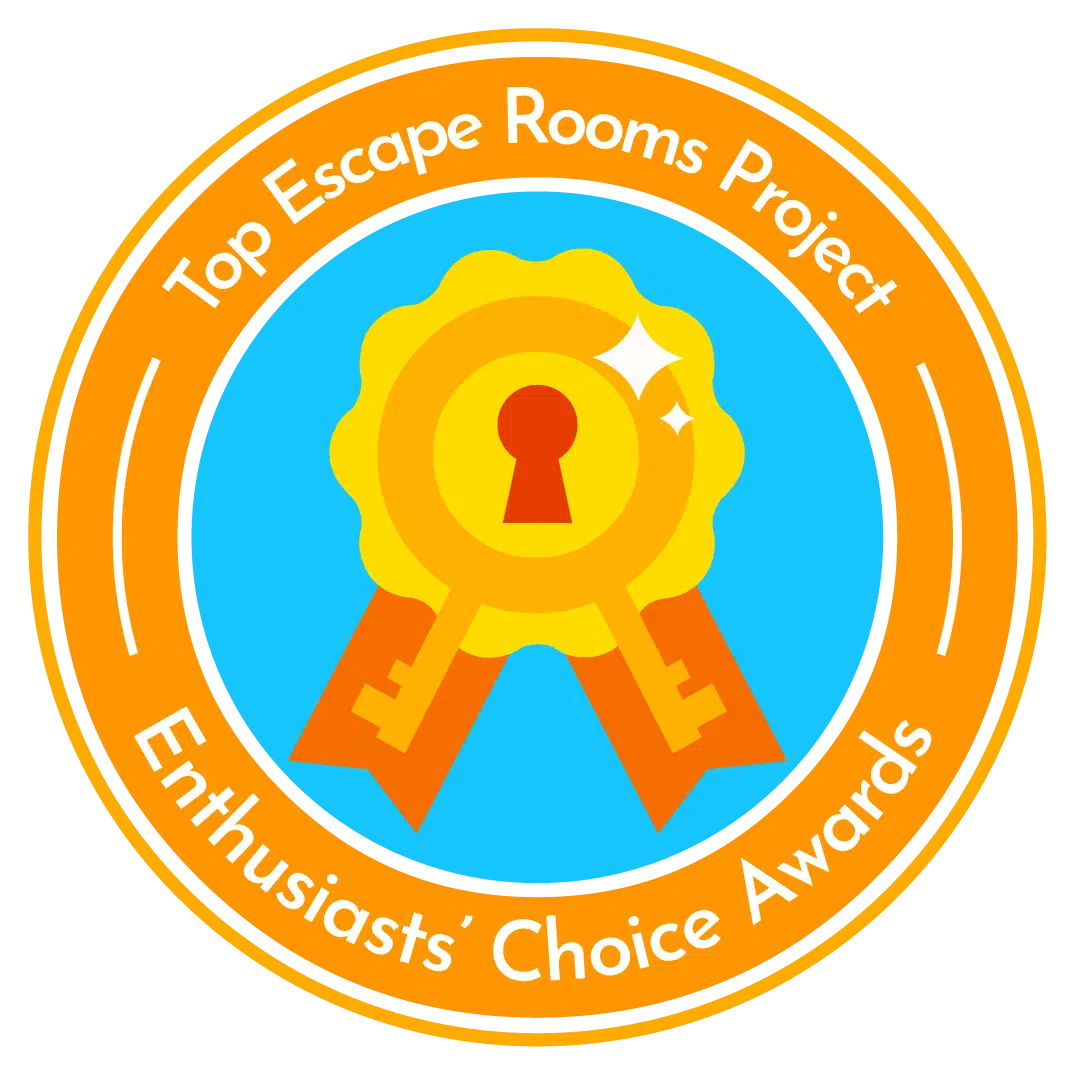 Have you seen the offers we run each and every day?
As Supported By Tourists
Escape Effect Is Loved By Visitors All Over
Each year, Tripadvisor gives a Travelers' Choice award (used to be Certificate of Excellence) to accommodations, attractions, and restaurants that consistently earn great reviews from travelers and are ranked in the top 10% of properties on Tripadvisor.

In short, most escape room attractions receive this award each year. But what makes us particularly special is that we hold the highest average rating of 4.97 amongst Orlando escape room reviews and attractions.
Not sure which escape room to play? We're here to help.
Recognized By Enthusiasts
Escape Effect Is In The Top Rooms Of The Year
Partly Wicked is an escape room review publication headed by a couple of guys who visit games all over the country. They appreciate all facets of escape rooms – not just limited to puzzles and scenic.

In 2018, they visited us, played At Odds With The Gods with their group of friends, and enjoyed it enough to put the game in the top 3 of everything they played that year.
Thank you for the recognition.