We've been excited for the Great Movie Escape ever since Universal first announced it. The idea of such a large theme park putting out their own escape rooms is too fun for us to not speculate on. We wrote about what might be in the Jurassic Park room when the first teaser dropped in June. It's been six months of eager anticipation since then. Now that tickets are available, we want to talk about what's in the games.
What is Universal's Great Movie Escape?
The Great Movie Escape is Universal Studio's very own escape room experience, designed by the brains behind Halloween Horror Nights. Halloween Horror Nights is known for having brilliant, imaginative sets and elaborate themes. They also worked with filmmakers to craft their sets, so you can look forward to a detailed and immersive escape room experience!
One detail that Universal boasts is that these rooms are randomized, so each visit can have a different solution. We're looking forward to seeing how that plays out in the games.
What are the escape rooms' themes?
Universal's Great Movie Escape has two escape rooms to choose from, based on two popular movie franchises: Back To The Future and Jurassic World.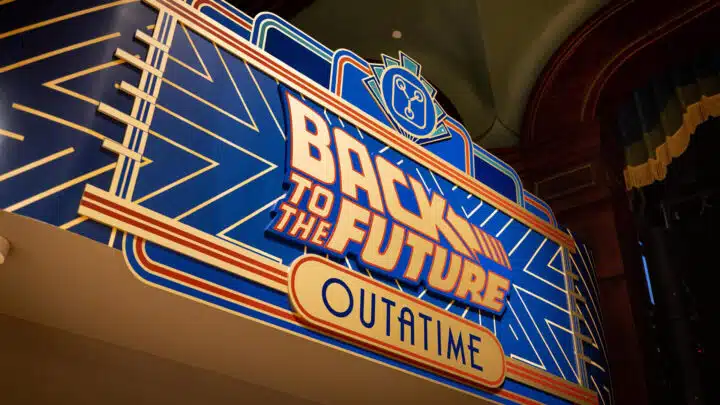 Back to the Future: OUTATIME is based on the Back To The Future franchise. Biff Tannen has stolen Doc Brown's newest time machine and it's up to you to get it back! You'll have to find the Doc's prototype machine and track Biff down before he can mess up the timeline.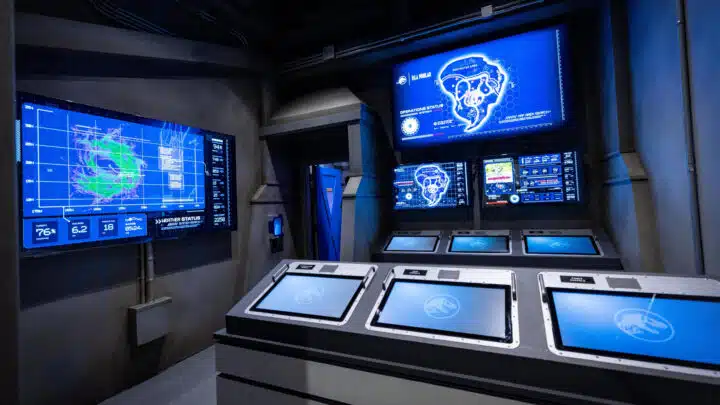 Jurassic World: Escape is based on the Jurassic World movies. This room takes you to Isla Nublar, the setting of Jurassic World's titular theme park. You'll need to escape from an apex predator that has broken free inside of a secret genetics laboratory before it finds you.
Are the games public or private?
The Great Movie Escape's rooms are public by default, and public games can include up to 6 people. This means that, if you have fewer than 6 people in your group, you may be paired up with another group.
Private games are available, and a private game can include up to 8 people in your group. If you have a group larger than 8 people, you will have to call to make your reservation.
An important note: children under 3 years old do not require a ticket and do not count towards the total number of people in your group.
How much does Universal's Great Movie Escape cost?
Ticket prices vary by time of day and season. The main breakdown for prices is whether your game starts before or after 6pm. The price can also change during different times of year.
At the time of writing, these are the prices:
Before 6pm
Public tickets from
$49.99 per person, up to 6 people.
Private games from
$300 for up to 8 people.
After 6pm
Public tickets from
$59.99 per person, up to 6 people.
Private games from
$360 for up to 8 people.
As an example of the variable pricing, a regular ticket before 6pm on January 1, 2023 will cost $64.99. Later in the week, the price drops to $54.99. Once the holiday season ends, the price goes back to $49.99. A private game during that time period changes from $390 to $330, then back to $300 when the holiday season ends.
This variable pricing follows similar trends for Universal's regular theme park pricing, where peak times tend to have higher prices.
This is separate from theme park admission, so you'll still need to pay if you want to visit the theme park before or after the game. However, since it takes place in CityWalk, you do not need a theme park ticket to play the escape rooms.
What else do I need to know?
There are a few important points to keep in mind when planning to visit these escape rooms.
Guests are required to arrive 15 minutes before the game's start time.
Universal tells guests to plan for a 90-minute experience, which includes the 15 minutes for check-in. The games themselves are likely to have a 60-minute time limit.
Each ticket includes free parking for a single vehicle, so you will not need to pay to park as long as you present your ticket.
Like with most escape rooms, tickets are for a specific date and time. You won't be able to use your ticket on a different day, so plan your visit carefully.
If you want to see the Great Movie Escape, you can get your tickets on Universal Orlando's website.