Betty White was an entertainment legend. With over 70 years in the entertainment industry, you'd be hard-pressed to find anyone in America that hasn't at least heard her name. Outspoken, witty, and energetic, she was considered by many to be a national treasure. With such a long and storied career, her presence and influence is felt across multiple generations. She leaves behind a legacy filled with humor and kindness.
A lifetime of entertainment
Beginning with radio in the 1940s, Betty White had an immensely impressive career in the entertainment industry. She starred in radio shows and sitcoms, hosted variety shows, and became a fixture of game shows throughout the '60s—earning her the moniker of "the first lady of game shows." Over time, as her career expanded, that became "the first lady of television." She won many awards during her time in the spotlight, including multiple Emmys for various performances.
One of her most famous roles was in the '80s sitcom The Golden Girls, where she played the naive Rose Nylund. If her already 40-year career wasn't enough to make her a household name, the popularity of The Golden Girls certainly was. This lively comedy won many awards throughout its run, and it's still popular today. Its charm and wit holds a special place in the hearts of many, and not just those that watched it during its original airing. Nearly 30 years after it ended, the show still finds new fans.
She continued making television appearances throughout the new millennium, even making a cameo appearance in Toy Story 4. Even as she neared her 100th birthday, she continued to charm and entertain.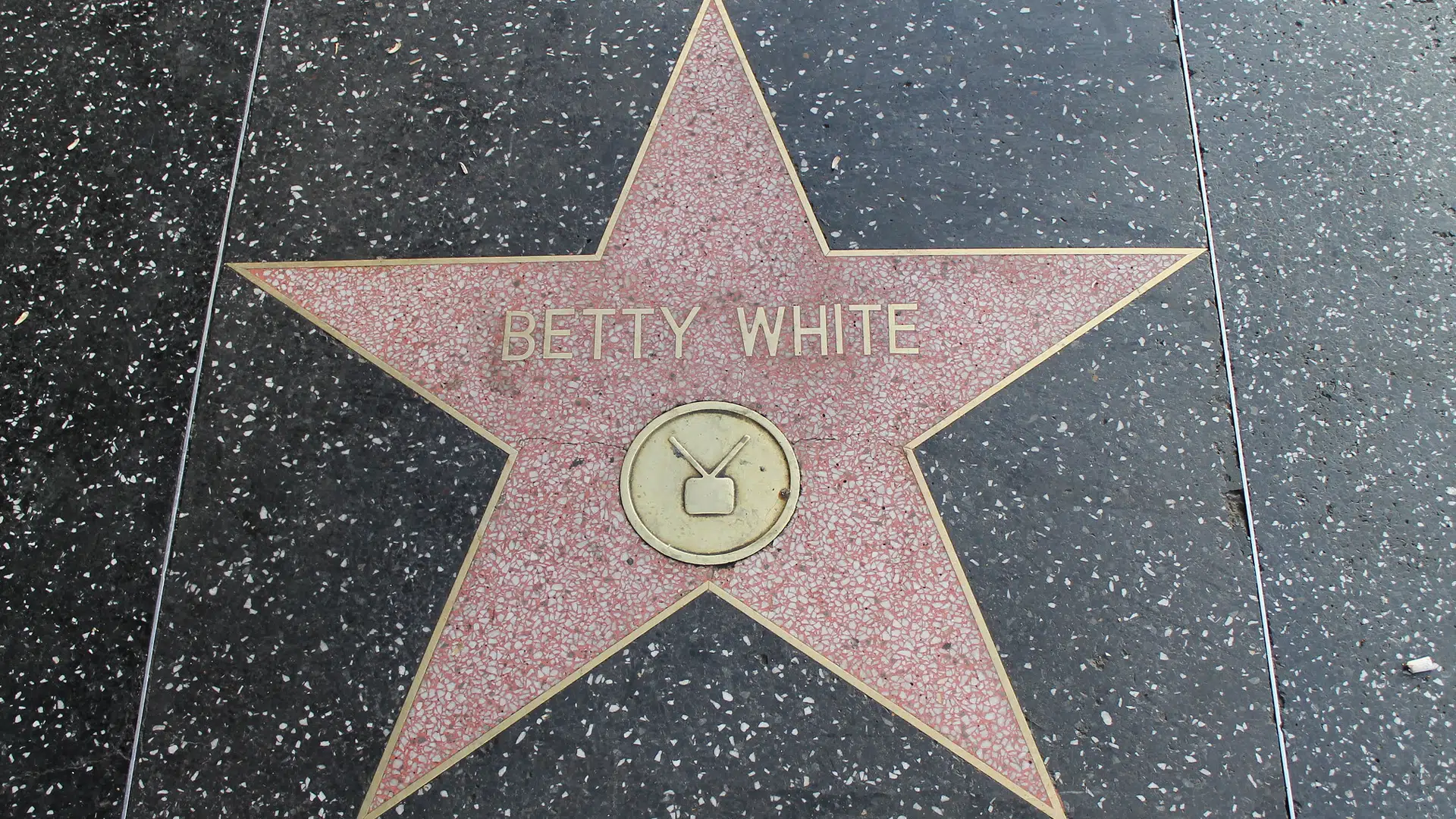 A charitable history
While she supported many charities, Betty White's love for animals was a key motivator for her charity efforts. Throughout the decades, she worked with animal welfare organizations, including the Greater Los Angeles Zoo Association and the Morris Animal Foundation. Her efforts in support of the Morris Animal Foundation earned her a position as a board member, among other titles. The work she did for these organizations has made a lasting impression on those she worked with.
Golden memories
Though we may not have met her personally, Betty White was a constant presence in our lives through her years on screen. To honor the lifetime that we spent with her, we'd like to share some of our memories of her.
Imagine New Jersey from the 70s and 80s – more space between homes, every neighbor knew each other, and way more traffic than even now in Florida! I was fortunate enough to grow up in a neighborhood where my grandparents lived too – my siblings and I referred to them as 'Big Daddy and Nanny'.

Almost every morning, I'd visit Big Daddy and Nanny and one of them would have breakfast prepared before I got onto the school bus. When I got home from school, I'd spend some of my nights hanging out with Nanny and Big Daddy. Sometimes, we'd play cards and sometimes we'd watch TV together. I liked watching TV at my grandparents' home instead of my own parents' home because Nanny would put on shows like Murder, She Wrote or The Golden Girls. Keep in mind, this is a time when a household owned one, maybe two televisions – so as a child, there was no watching YouTube on phones as we all know today!

Then came college and my nerd-dom started to shine. I'm the guy that would put Game Show Network on in the background while I was coding. Back in the 90s, GSN would broadcast a lot of the gameshows dating back to the 50s. These included What's My Line, To Tell The Truth, Password, and Match Game. It's with these gameshows that I think viewers, including myself, could feel like we knew Betty a bit more. She was an endearing mix of sweetness with the ability to say what she thought.

Fast forward to more modern days and Betty appeared in several, seemingly unrelated works. There are two shows that stick with me. The first revisits her time on gameshows with Million Dollar Password. There is nothing better than watching Betty win big money not once, but twice for her partners! The second memory is from her guest host spot on Saturday Night Live from 2010. It was a Mother's Day special and whether she was talking about her dusty muffin or giving the census taker a hard time, Betty's timing was simply impeccable, especially for the self-described '88-and-a-half-year-old'!

In a time where people did not have a grandmother as great as my own, Betty White was there for them. And for people like me, Betty represents a happier time when life was simpler and the horrible people of the world didn't have a stage.

– Dan Suleski
As a child, my siblings and I spent a lot of time at my grandmother's house. We went swimming in her backyard pool during the summer, made candies for the holidays, and relaxed on the sofa with her dogs. We watched television together when it was time for dinner. Among my grandmother's favorite shows were old westerns, Law and Order, and The Golden Girls. It was an eclectic combination, for sure, but that's my grandmother. She's an eclectic person with a lot of love to give. The banter on The Golden Girls reminded her a lot of her friends, and the atmosphere of the show felt very similar to to my grandmother's house.

Though Betty White as a person was pretty different from her character, Rose, my grandmother was pretty fond of Rose. She knew of Betty White from other shows, though at that age I wasn't very familiar with actors. Nowadays, when my grandmother and I get together, we still watch television. She still loves her westerns and The Golden Girls, though Law and Order has taken a backseat to true crime shows and medical documentaries. My grandmother will talk about the big-name actors from when she was younger; which actors are still around, who used to play what roles, and who her favorites were. Betty White is still a favorite of hers, and she's a favorite of mine.

– J.W
My fondest memories of Betty White are watching the Golden Girls with my grandparents. I used to watch the reruns so often that I could quote dialogue from memory, and I always sang along with the theme song. I loved the fact that the stories she told as Rose seemed so crazy, but when I went to visit that small town in Western PA, some similar things did happen in real life. Also, I learned that all of life's problems can be solved with cheesecake and blunt friends.

Until I discovered the game show network in my early 20s, I always associated Betty White with Rose Nylund. I then discovered just how much of a career Betty had on different game shows. She had this way of saying something wildly inappropriate without it seeming that way. She told it like it was, but was so sweet about it nobody ever seemed to be offended, even if it appeared she was trying to offend them. The older she got, the more she took advantage of it. It gives you something to look forward to, being able to speak your mind without anybody caring because you are a sweet old lady.

– Jamie Suleski