The Escape Effect Family Attraction
The Best Escape Room Kissimmee Offers
Treat your family to the most fun Kissimmee escape room.
Everybody plays
Who Should Play An Escape Room?
If you're getting bored of picnics, bowling alleys, and bars, then you found the right place. At least once in your life, you need to give an escape room a try. We say "at least once" because it's fairly common that when a new player participates in a really awesome escape room, they'll return for more over and over and over again. Seriously!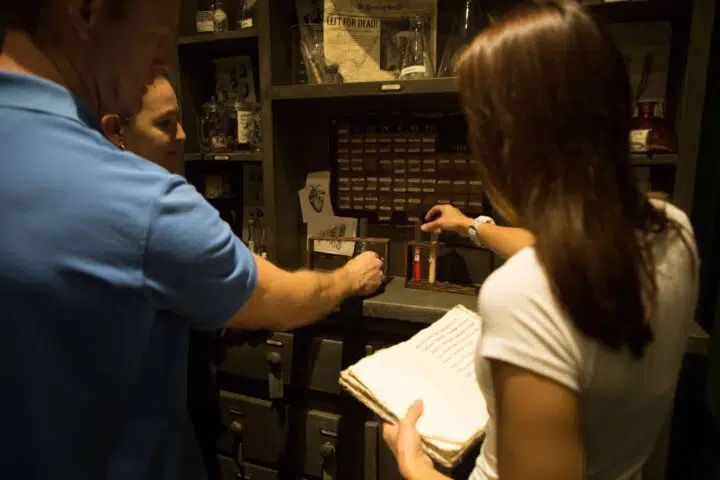 Families
Make it a memorable reunion.
Looking for an activity that the whole family will enjoy? There's none better than an escape room! Think about it for family game night or even for a big reunion for your extended family!
Have a question or want to talk? Drop us a line.
Four Great Kissimmee Escape Rooms
More Puzzles, More Time, More Fun!
The Escape Effect offers the longest escape rooms in Kissimmee, including the only 2-hour escape room in all of Florida!
Not sure which escape room to play? We're here to help.
You have questions, we have answers
More About The Escape Effect
Where is the escape room located?
At the South end of International Drive, just five minutes from Kissimmee. There's a map on our Contact page.
Are escape rooms open after the theme parks close?
Absolutely! Our last escape room each night typically starts around 9:30pm. On weekends and holidays, look for some rooms to start as late as 11pm. Please see our reservations page for a list of the most current times available for each escape room Kissimmee offers.
Is the escape room Kissimmee offers kid and family-friendly?
As a family-run small business, we err on the side of games that are or can be made family-friendly. Our games are for you and what you value. If you are claustrophobic, we'll leave the door open for you. If you don't like the dark, we'll run the game with the lights on. And if the music is too loud, we'll turn it down. If you have any questions on the age-appropriateness of our rooms, please call us at (855) 426-3372.
How old do I need to be to play an escape room?
With a parent or legal guardian, children as young as 6 years of age are welcome to participate in the experience. At least one adult must be in the game, who will be responsible for any minors.
Is the door locked in an escape room?
You can exit the Kissimmee escape room at any time. The door is never locked.
The biggest "bang for the buck" escape game in Kissimmee.
Kissimmee Family Fun
Big Families Save On Kissimmee Escape Rooms
We get it. Taking out the family to have fun can sometimes break the bank, but it doesn't need to be that way. Believe it or not, we value you and your wallet. As such, we run a number of different offers that can be used each and every day on an of our escape rooms in Kissimmee.
Ready for family time? It's easy to reserve a time online.