CONGRATULATIONS!
You found a dark secret from Victor Strange! Now that you're here, you can learn the not-so-dark secret behind the creation of Fright Before Your Eyes.
Preface
Fright Before Your Eyes is The Escape Effect's fifth custom-designed escape room. It was built during the second half of 2020.
I'm the Creative Director at Escape Effect and in this article, I'll share some of the behind-the-scenes information you don't often get to read about, including what the development team was thinking, how the dev cycle proceeded, and ultimately the reaction from our guests.
What about Encore?
So, there's quite a bit to this.
At the time we built Fright, we had four games already built at the Orlando location and we were getting to a point where we felt that one needed a refresh. For the past couple years, we had seen a glaring omission from our theme lineup – there was not much for Halloween. We weren't touching A Knight To Escape because it was our most recent and largest build. And, nothing in At Odds With The Gods screamed "Halloween" to anyone.
That left Sherlock Studies and Encore. Because our team was more streamlined post-quarantine, we needed to consider a more appropriate scope. So Encore, being a physically smaller escape room, meant that we could aim for a 30-60 minute game in a smaller space.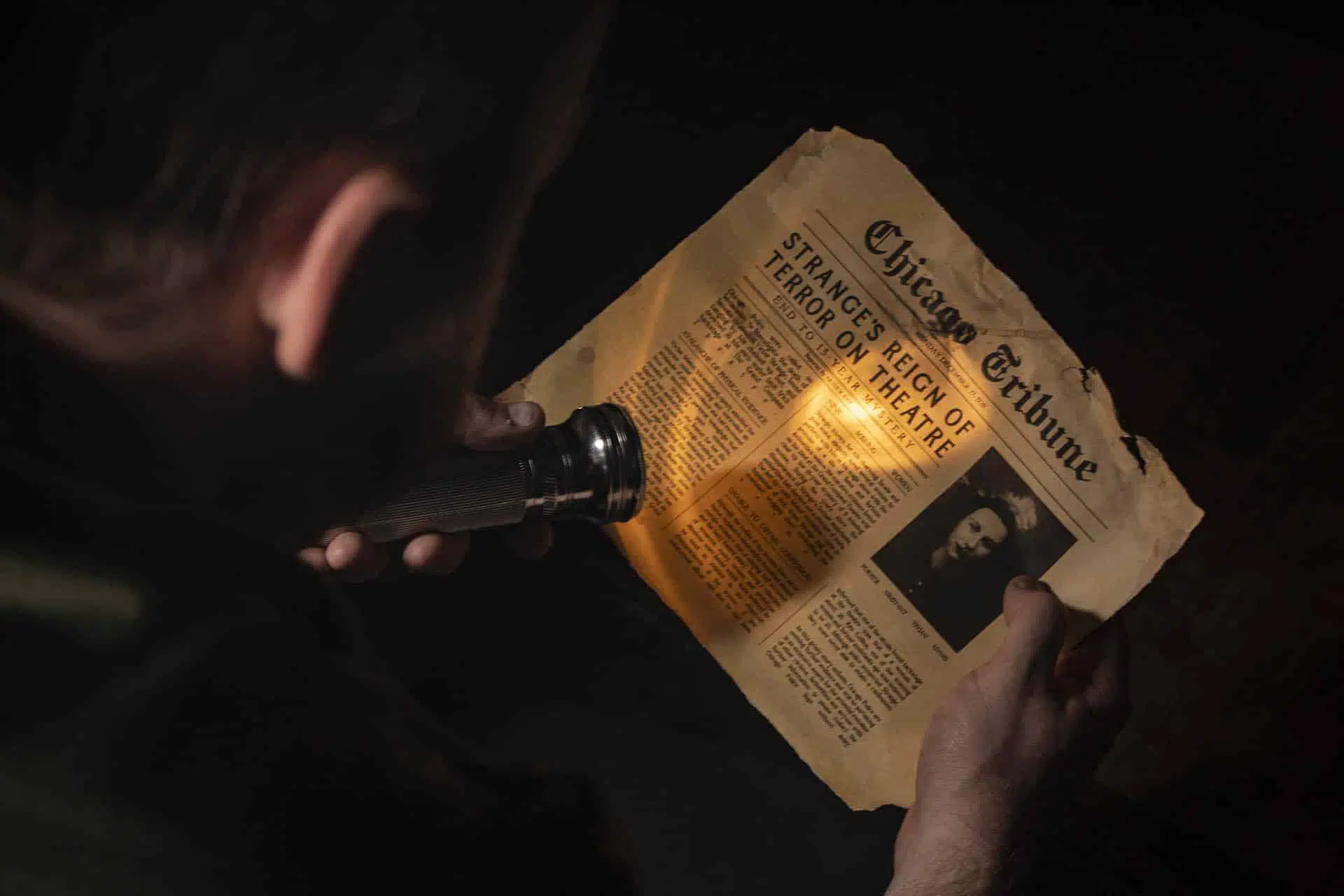 Where did the story come from?
Escape Effect is a family-friendly brand. We didn't necessarily want something scary, but we did want something on theme for Halloween, so maybe more on the spookier end of the spectrum. We also wanted to go even heavier on story than our previous offerings to see if it's something that players would care about.
We chose to expand on the lore of the Grand Compass with a story of a demented magician who made each of his assistants "disappear for good" 100 years ago. And with that, the story of Victor Strange was born.
What are the Specter Detectors?
When it comes to gameplay, we knew this was another opportunity to innovate. Taking inspiration from works like Ghostbusters and Paranormal Activity, we looked at developing a couple devices that players would interact with for the entire game, similar to how players interacted with the A/V panel in Encore.
Because the game was intended to be spooky, it had to be dark both figuratively and literally. And what's awesome to put in a dark escape room? Blacklight! But, we didn't want to make it cliché. We wanted to amplify it, and that's when the SD1000 was invented. It's a tool with a blacklight at the end of a hose that runs into a portable box. Light up the tool with a flashlight, which causes the hose to "charge up". When the hose is fully lit, the blacklight at the end of the hose lights up too.
Then there's the SD2000. It's effectively what some may call a "ghost box" inspired by devices that ghost hunters use to capture EVP. In short, the SD2000 is a device that knows how to recognize props and turn them into audible dialogue from the assistants that haunt the theatre. Typically, in escape rooms, players will solve puzzles to get codes that open locks. The more locks that are opened, the further along a player is. But with the SD2000, progression tracking is kept right on the box. As spirits are identified, a series of lights become lit that indicate how many assistants have been found.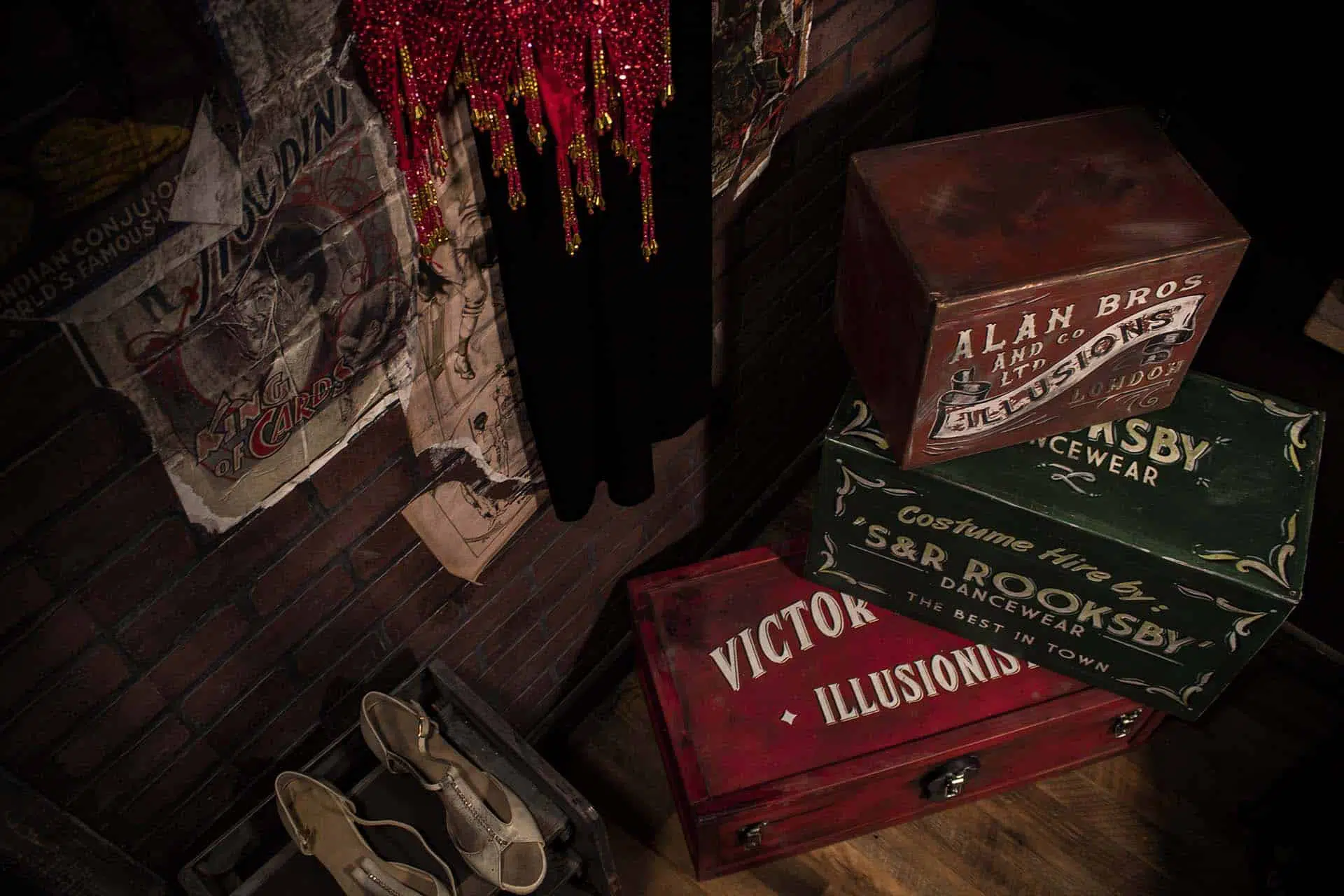 How is the set different?
Inspiration for set design elements was taken from the old-fashioned sign-writing found at carnivals and fairs. Theatrical posters already adorned the walls for 'Encore', and these were layered with new banners and signs, which were hand painted using traditional methods from the time period. Many of these banners depict the shows, girls, and illusions you learn more about during the game.
Wooden chests, fabric sacks and magic props were also embellished with Victor's name and acts. The glitz and glamor of the theatre was brought into the game with various sparkly dresses, accessories, and jewelry.
The set design juxtaposes the spectacle of the stage alongside the dark secrets that occurred within its walls. Victor's charm and charisma shines through on the outside, but his misdeeds can be seen within the details.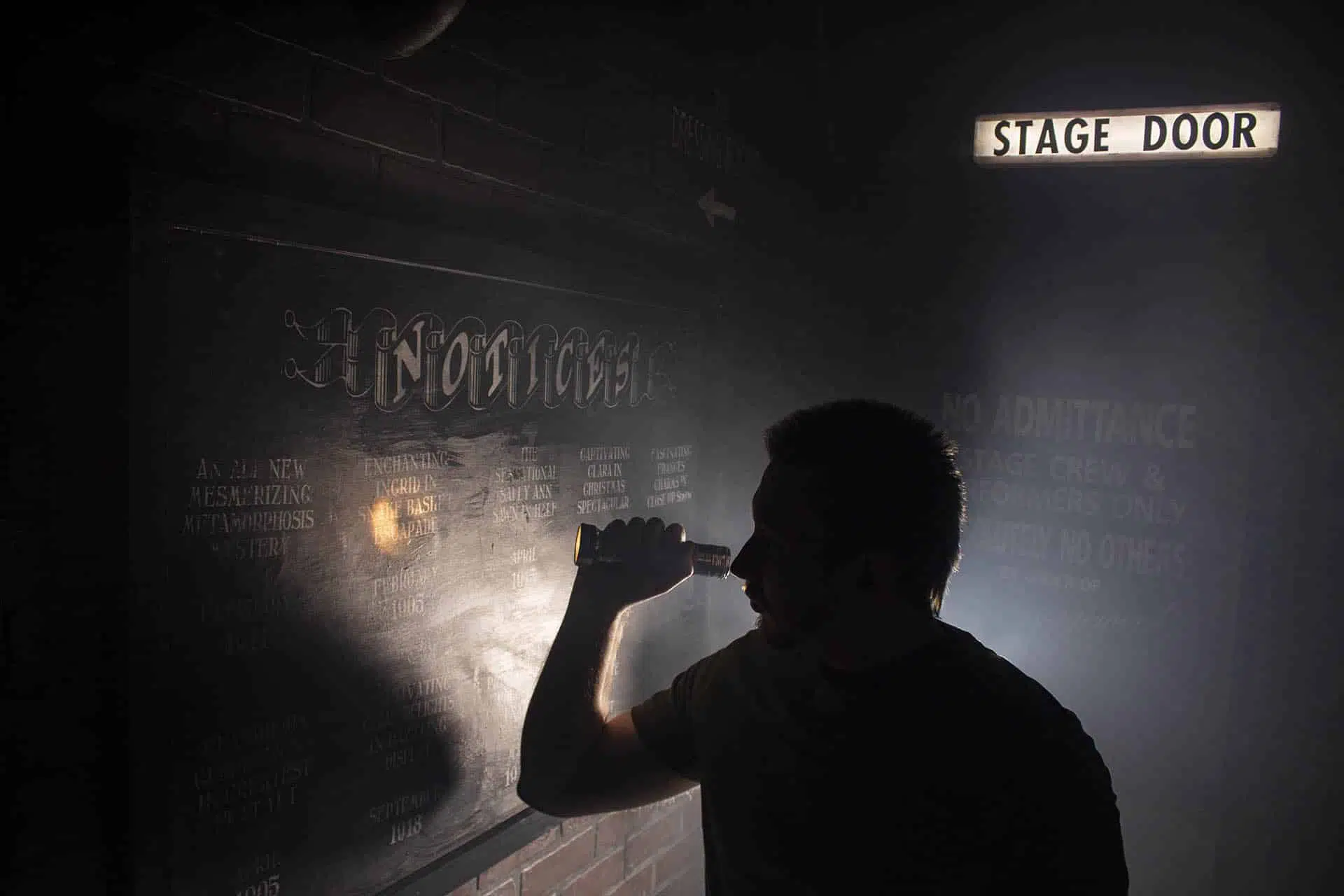 How about the reception?
I had run at least 20 beta tests largely with enthusiasts/fans of Escape Effect and a few tests with staff. Of those tests, two games went 76 minutes long, two games went 91 minutes long, and the rest were even longer! The duration was not what we initially aimed for (déjà vu??), but when we heard feedback that included terms like "different", "fun", and "classic", we felt that this was a longer game, again.
As we approach the second anniversary of Fright, I've discovered more parallels in feedback amongst all of our games – typically the feedback touches on these: story vs gameplay, linear vs non-linear, brightness vs darkness, and locks vs no locks. But ultimately, the vast majority of players are indifferent to these verticals and appreciate Fright alongside most any other escape room as the entertainment it is.
Did I hear about a bonus?
Chances are that you are reading this article because you solved the bonus in the Fright comic. But if you didn't, then you need to purchase it from our online shop now! It's a 60-page work that is custom-illustrated by staff and acts as a very unique prequel to the escape room.
In any case, did you know that there's a special bonus in the Fright escape room also? And, because you found this page, I'm going to tell you exactly what to do to trigger it!
When you come to The Escape Effect in Orlando, look carefully at the Fright poster hanging in the lounge. Within there, you'll find explicit instructions on what to do in the escape room! You'll know you did things right when you hear me say "bonus" while you're in the game. Do that and your host will reward you with a souvenir to remember your Escape Effect experience, while supplies last!