Whether you're coming here for spring break, summer vacation, a family outing, or a long weekend retreat, Orlando is a great place to visit. There are so many fun things to do for vacations, like theme parks, restaurants, and shopping. However, there's another type of experience that you simply must try when you're in the city: escape rooms.
Escape rooms are fun challenges that let you feel like you're living out your own movies. Race against the clock, discover the secrets hidden throughout the game, and solve the mysteries in some remarkably immersive puzzle rooms. You'll decipher clues, open locks, and sometimes find hidden passages in the walls. Families and friends work together to find the solution and escape.
If you're looking for fresh, exciting escape rooms, look no further than The Escape Effect. We have four distinctly fun games that will add an extra spark to your vacation!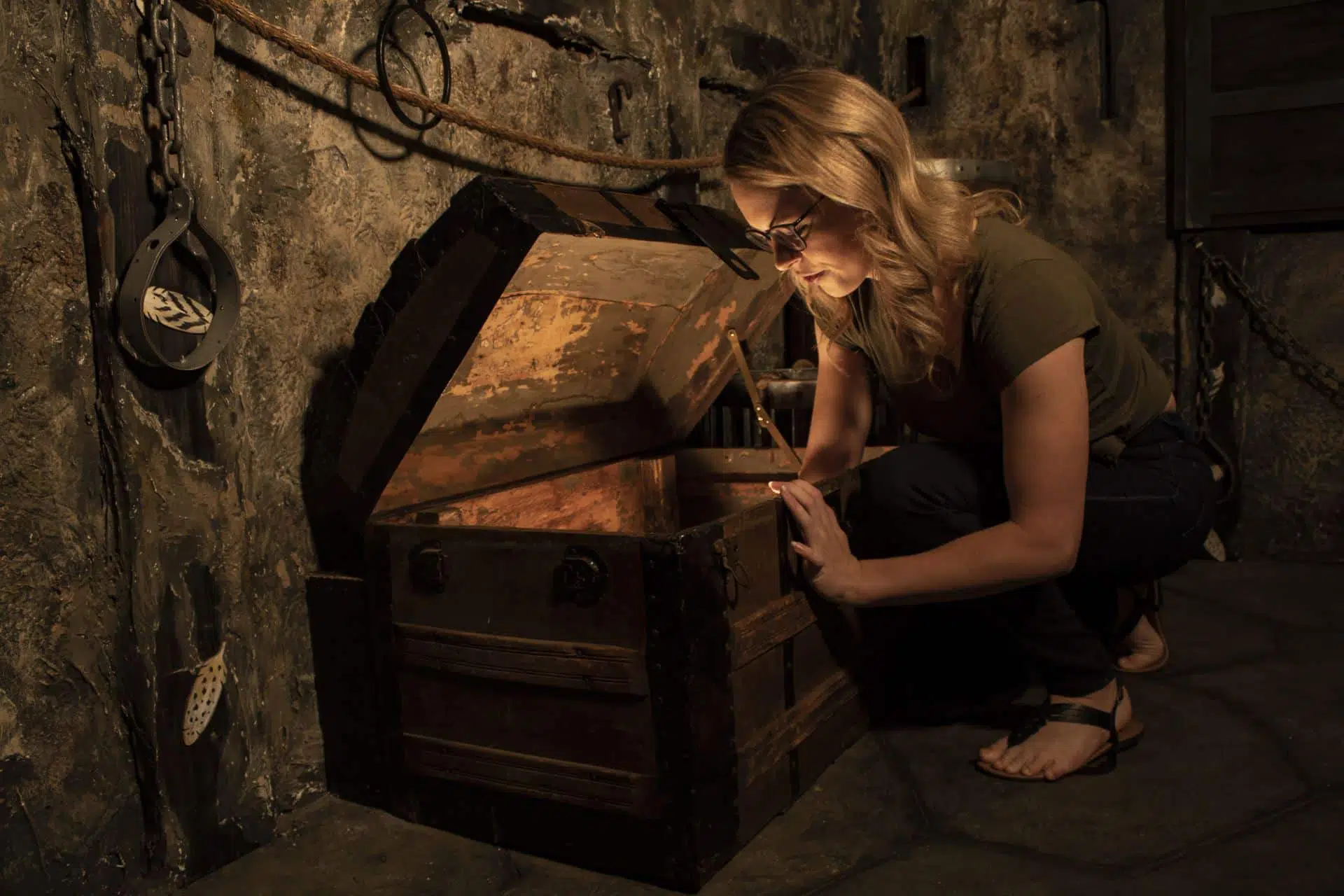 Discover a unique vacation experience
Voted the #1 Entertainment Experience for three years in a row, The Escape Effect is a must-see when you're in Orlando. We were the first venue to make escape rooms that were longer than the standard 60 minutes, and we have the only 2-hour escape room in Florida! Our escape rooms will put you right into the scene, whether it's an ancient Greek temple or a medieval castle. Each room has a unique play style that will challenge your group in different ways. The Escape Effect is one-of-a-kind. These exciting games can only be found here in Orlando!
From the traditional to the unconventional, take a look at what we offer
A 2-hour medieval spectacular
A Knight To Escape will keep your team separated for most of the game, so you'll have to help one another from afar. With one side in the light and the other in the dark, each group will have to navigate their own challenges while providing clues to the other side. This is a great game for vacationing friends and families that know how to communicate!
A legendary 90-minute mythological experience
At Odds With The Gods is a traditional escape room, but its scale and non-linear flow will keep your team on their toes. Your group can work together or take a divide-and-conquer approach to the game. It's a great game for large vacation groups that want to spread out. It's also great for groups of any size that really love solving a lot of puzzles!
A 75-minute murder mystery with a twist
In Sherlock Studies, your vacation turns into a murder mystery that your group has to solve! This game has a linear flow and puzzles that require paying attention to small details. Your group will need to put your heads together to solve the murder. It's a great game for groups that are new to escape rooms or that like murder mystery stories.
A unique 90-minute ghost-hunting experience
In Fright Before Your Eyes, you'll have a very different vacation experience. Your group will be sent into the dark depths of an abandoned theatre. You'll use a special device to find clues that lead you to the spirits. This dark escape room is more thrilling than terrifying. It's a great game for fans of spooky stories and movies like Ghostbusters. or video games like Luigi's Mansion.
With so much variety in these games, there's something for everyone to enjoy. Come visit us to make your vacation unforgettable.
Make your vacation twice as fun
Book a double feature for your group! If you play two games back-to-back, you can save 22% on your tickets! Just call a host to make your reservations.