Grab your ghoulfriends for this back-to-back chilling challenge! Extra Hours is The Escape Effect's overnight escape room experience where you are tested for 4 incredible puzzle-filled hours! Through the spooky season, you can get a monstrous 31% off, so there's no better time to enjoy a frightfully fun knight with all your friends and family with this amazing deal!
For all Extra Hours bookings, you get to choose which games you want to experience. So to fully celebrate spooky season, why not include our pitch-black thriller, Fright Before Your Eyes! In our 90-minute ghost hunting adventure you'll explore the backstage of an abandoned theatre and uncover the dark secrets of sinister illusionist, Victor Strange. There's no better game to complement your Extra Hours Halloween escape room experience.
Not only will a dedicated host personally watch your games, but this overnight extravaganza also comes with some other awesome bonuses, like a hair-raisingly good 31% off of all merchandise AND a special gift, exclusive to Extra Hours bookings.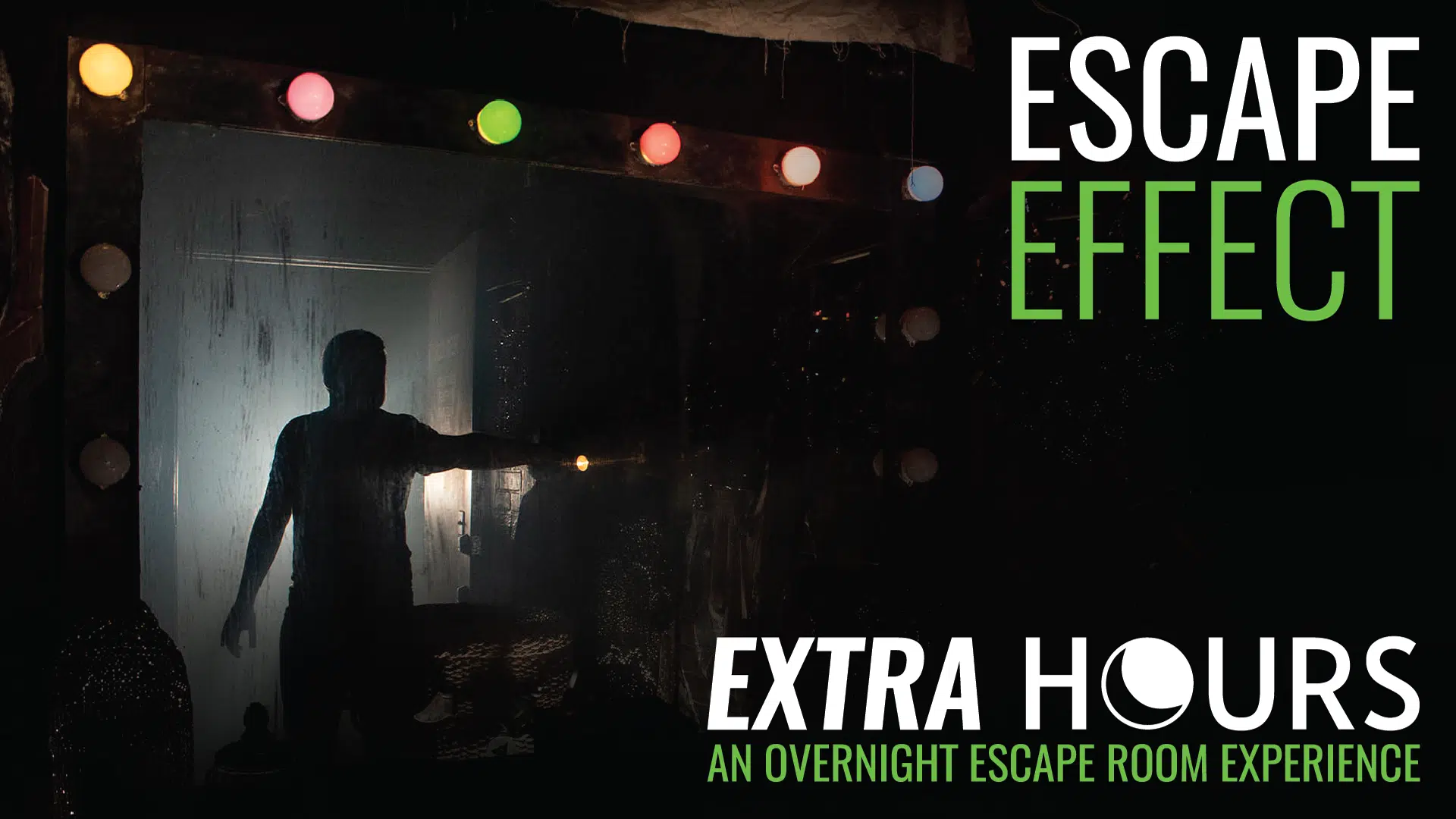 Here are a few other details you need to know about Extra Hours:
Don't leave your plans a mystery! We require a one-week notice for Extra Hours bookings and they are only available on select nights.
Want tricks AND treats? You can add on snacks and drinks for an extra fee.
The base price is $699 for up to six players, with additional witches and warlocks costing an extra $99 each.
Afraid to go alone? You can have up to 24 in your team total!
Play witchever way you want to play! Whether you want to speedrun the games or take your time, it's totally up to you how you spend the four hours.
Learn more about Extra Hours here. If you want to book this Halloween escape room deal, give us a call.
Don't ghost us!
Have a skele-ton of fun and call a host to book this epic Extra Hours Halloween deal today! This special offer is valid for Extra Hours bookings played between September 5, 2023 and November 4, 2023.