Preface
A Knight To Escape is Florida's only two-hour escape room! This was the largest build the team at Escape Effect had done thus far. As the Creative Director at Escape Effect, I'll give you a peek behind the curtain!
Inspiration
At the time of our build, nobody in or around Orlando was doing a Medieval-themed escape room. So, it made a whole lot of sense to tackle a castle. I mean, who doesn't love the Medieval era?
Several of the escape rooms at Escape Effect take inspiration from childhood memories. For this Medieval game, there's quite a bit that comes to mind.
Our Set Designer drew up some fantastic concept art. She added inspiration from her hometown in the UK. Of particular note to me, her checkerboard concept for the armory floor reminds me a lot of the Armor Knight level in Dragon's Lair.
Gameplay
In the months before breaking ground at the store, we had finished designing the gameplay of the first three escape rooms. There was At Odds With The Gods, which I like to describe as a huge raw puzzle room. Then there's Sherlock Studies, which is our most traditional escape room, but with an interesting and significant deductive puzzle. And then, Encore, where players get to control the lighting. So, how do we raise the bar with game #4? With a split-start…
A split-start escape room is a game where the players start in different physical rooms. Typically, these types of games are realized as jailbreak scenarios where players help each other break out of each other's cell using clues and props usually located in the other cell.
We saw that there was a large amount of space remaining in the store and had considered building two games in that space at one point. But, I had played another split-start in the city and saw an opportunity – the split-start I had played split us for only 10-15 minutes before we came together and played the rest out as a traditional "all together" escape room. The experience left me wanting more. So, we set out to create a game where players would be split for the majority of the time.
A Knight To Escape starts players either in a dungeon (the prisoners) or in a courtyard (the rescuers). The game is broken into four phases and every phase requires both sides to participate. Phase 1 puts the dungeon more in control, phase 2 shares control, phase 3 transfers control to the courtyard, and phase 4 sees all players together. This setup is intended to give both sides an opportunity to shine while working together.
Additionally, we've played escape rooms where one or two people want to take control of every puzzle, every task, just everything. It really isn't the same kind of fun for some teammates when an "alpha" is present. So, we ensured that some puzzles didn't just require a single player to solve. And, those physical multi-player puzzles are precisely why a minimum of four players are required for A Knight To Escape.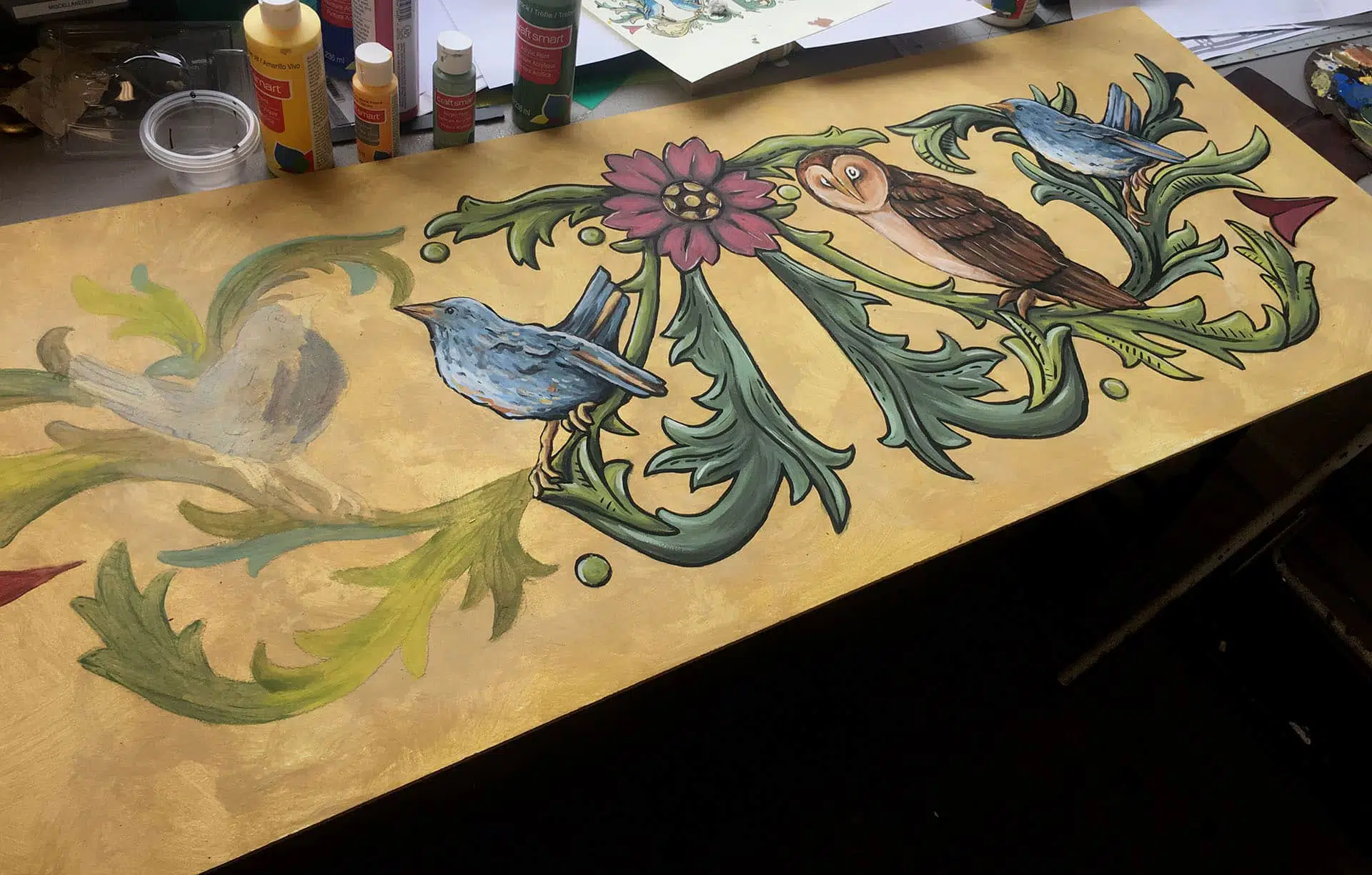 Set Design
When it came to the set design, we wanted to stick with a traditional look, rather than fantastical. There were to be several distinct areas in the game: the dungeon, grand hall, armory, and a courtyard section.
The dungeon was fitted out with old beams, moss in the corners of the room and an overall rustic look. Everything was distressed to appear more run-down than the rest of the castle. It was also important that this area was kept dimly lit, to make the torture devices that adorn the walls and skeleton remains hanging from the ceiling more atmospheric.
The grand hall needed warm-toned panels, elegant murals and an imposing chandelier. Hundreds, if not thousands, of round head nails were hammered into the doors to add dimension. The torches in each area of the castle were given distinct characteristics, all of which were hand-made to keep with the different room styles.
The armory was filled from top to bottom with various pieces of armor, which needed aging as if they had just come back from battle. The flooring was given its iconic checkerboard appearance and the look was completed with tapestries and stained glass.
The courtyard needed layers of plaster and paint treatments to achieve its stone-like appearance. The crenels, arrowslit windows, and banners were added, and expressive gargoyles were placed high up in the corners of the parapets. All these elements came together to create a convincing likeness of medieval architecture.
Reception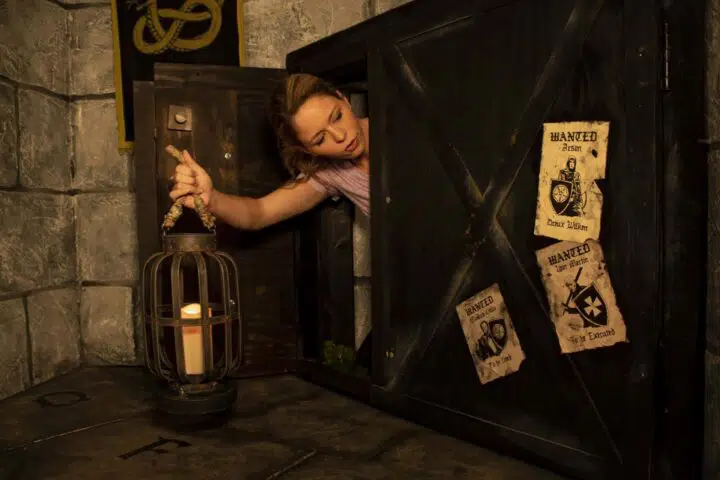 I can remember like it was yesterday, but it was really around Xmas of 2018. The build was complete. We were now at the stage where the game needed testing. We put out a notice on Social Media and the phone lit up within 7 seconds. I remember looking at my wife and asking "how are we going to handle so many simultaneous calls?"
Then came the actual testing. I can remember one team trying to put the shield crest pieces into holes that were oddly around the size of the recesses in one of the doors. How I didn't see this before made me scratch my head, but it's exactly why testing happens. What else blew me away was that these beta games were generally going over two hours!
Players were thrilled. The game was filled with many exciting player moments. Some of my favorites were when all players, no matter where they were located in the game, understood that something was happening or something had been accomplished. In fact, in one of the tests, after the players were joined back together and had the freedom to move about the entire castle, a player could tell something was happening on the other side of the game. Screams of FOMO began…and I needed to look that up because I'm old and clearly don't understand language any longer. 🙂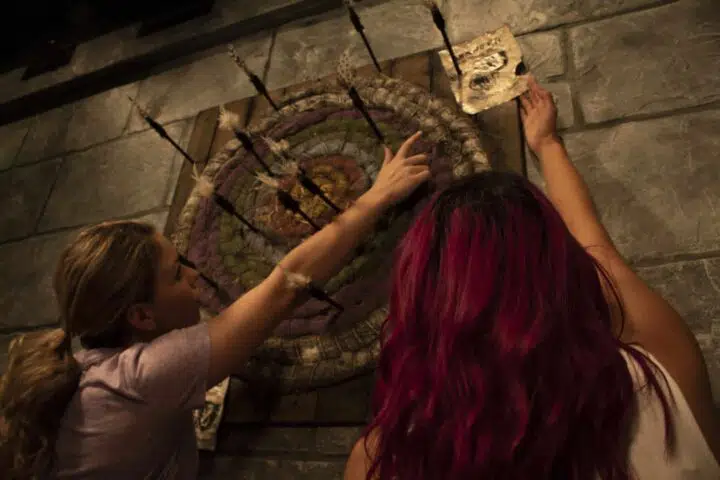 Normally, the more escape rooms a person plays, the quicker they will escape from future rooms. This correlation does not translate the same way for A Knight To Escape. In fact, as more teams have come through over the years, I'm finding that a player's experience level with escape rooms does not impact their success as much as their ability to communicate with their teammates. That means that a "Brady Bunch"-type family who has played hardly any escape rooms can fare better than an escape room enthusiast team that has played hundreds of rooms previously because some enthusiasts are not used to truly depending on each other to advance. An interesting phenomenon, to say the least!
With that, the rest is history. I'm incredibly proud of the team who built this. It's a gem in Orlando, for sure!